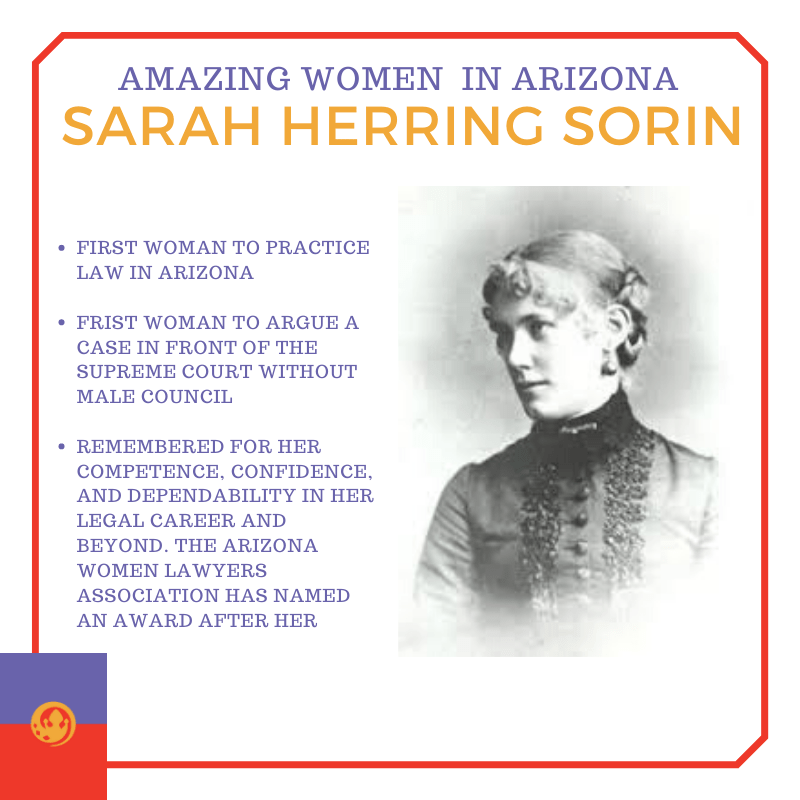 Today's amazing woman in Arizona history is Sarah Herring Sorin. After moving from New York to Tombstone, Arizona with her family, Sarah Sorin became one of the first female school teachers in Arizona, later becoming the principal. 
After the death of her brother, Sorin resigned from her work in the schoolhouse and went to study law and assist her father in his law office. Following one year of legal study with her father, Sorin passed an extremely challenging oral exam in open court and was admitted to practice law in the First Judicial District Court of the Territory of Arizona. 
With this, Sarah Herring Sorin became the first female attorney in Arizona and the 25th woman admitted to practice law in the United States. Seeking out further legal education, Sorin attended New York University Law School where she graduated fourth in her class. After graduation, Sorin returned to Tombstone to practice law with her father. 
She was widely regarded in Tombstone, a booming mining town at the time, as a competent and capable lawyer who was often successful in getting a favorable verdict for her clients. During her career as an attorney, Sorin argued four cases in front of the United States Supreme Court, becoming the first woman from Arizona to do so. 
In 1913, Sorin represented United Global Mines in a case heard by the Supreme Court. With this case, Sorin became the first woman to argue in front of the U.S. Supreme Court without male assistance. She is remembered for her competence, confidence, and dependability in her legal career and beyond. The Arizona Women Lawyers Association has named an award after her; the award is given to members of the Association who have worked to further support and advance the status of women in the legal profession.