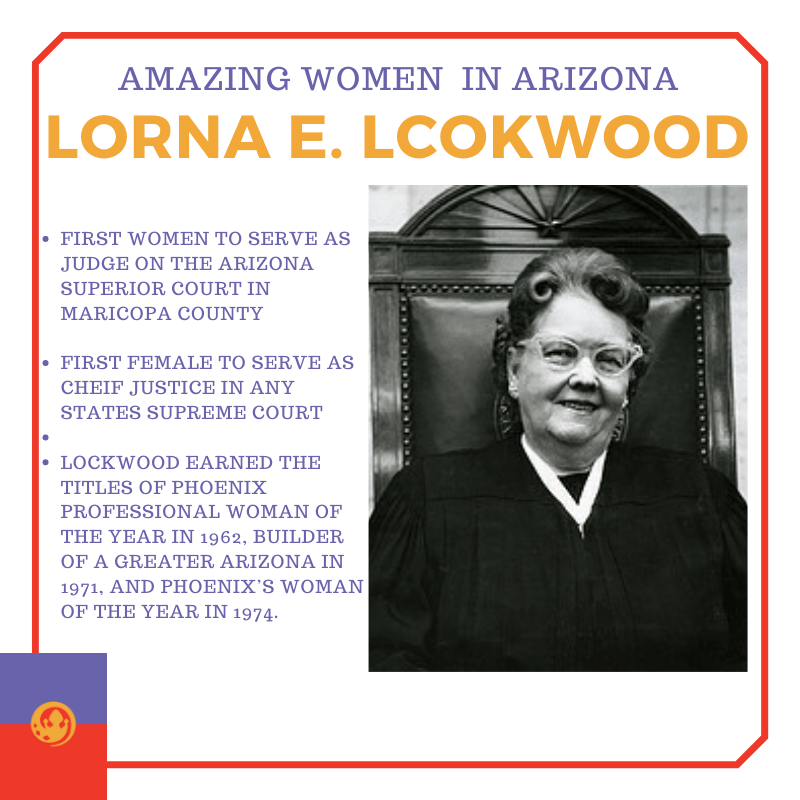 Today's amazing woman in Arizona history is Lorna E. Lockwood. Lorna Lockwood was born and raised in Arizona and developed an interest in law from a young age. After attending high school in Tombstone, AZ, Lockwood went to pursue an undergraduate degree and Juris Doctorate at the University of Arizona. She was the only female in her law school class. Lockwood graduated law school in 1925, and was admitted to the State Bar.
After being recruited to run for Arizona's House of Representatives by the Business and Professional Women's Club in 1938, Lockwood won this election and won re-election in 1940. 
During the outbreak of World War II, Lockwood returned to Phoenix in 1944 to help with wartime efforts. Once the war was over, she returned to the State House and served on the Judiciary Committee as chair, and on the House Rules Committee. While serving in the Arizona State House of Representatives, Lockwood was particularly active in areas of child welfare and public health. 
After her time as a State Representative, Lockwood went on to become Arizona's Assistant Attorney General, followed by the serving as a judge on the Arizona Superior Court in Maricopa County bench. She was the first woman to be elected to this position. 
In 1960 Lockwood ran for Arizona Supreme Court and won. She went on to serve as Chief Justice in 1965-1966 and again in 1970-1971. This accomplishment is remarkable as she was the first woman in any state to serve as Chief Justice. 
During her career, Lockwood was a vocal advocate for children's welfare and women's equality; she is remembered for bringing attention to issues that were not even being considered at the time. Laura E. Lockwood was a trailblazer ahead of her times. She should be an inspiration for many as she has overcome a male dominated world to create a path for women after her. Lockwood earned the titles of Phoenix Professional Woman of the Year in 1962, Builder of a Greater Arizona in 1971, and Phoenix's Woman of the Year in 1974. Lockwood passed away in 1977.