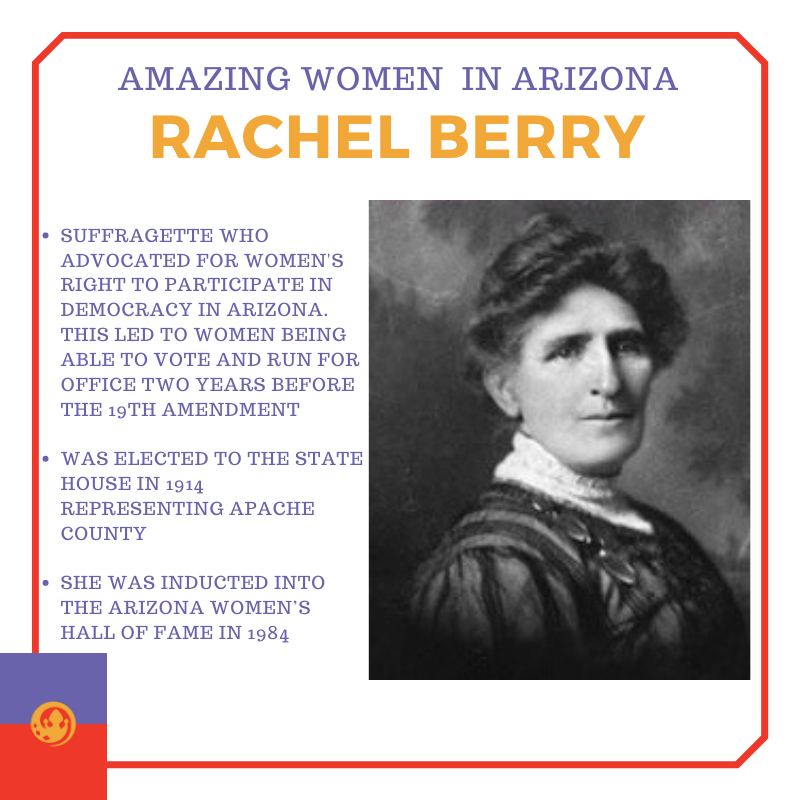 Today's amazing woman in Arizona history is Rachel Emma Allen Berry. Rachel Berry was an American suffragist, who worked to advocate and fight for women's right to vote and to run for office.  
Just two years after women were granted the right to vote in Arizona, Rachel Berry became one of the first women in the United States to win election into the State Legislature, doing so in 1914.This was remarkable because she accomplished this before the passage of the 19th amendment. In office, she represented Apache County in the Arizona House of Representatives. 
Rachel Berry served as a State Representative for one term. While in office, Berry was the chairman of the Good Roads Committee, advocated for education and child welfare, and successfully worked to adopt the state flag which we have today. 
After serving in the Arizona House of Representatives, Berry went on to become chairman of Apache County's Child Welfare Board. An active participant in her faith, Berry then became the president of the local Relief Society as well as the Mutual Improvement Association of her church, continuing to serve her community. She also served for several years as a trustee of the school in St. Johns, Arizona, where she lived. 
Rachel Berry is remembered for having a sharp wit and a good sense of humor which lasted until the day she died. Maintaining alertness and clarity into her 80s, she is quoted saying that the last thing she wanted was to become "an old lady with nothing to do." She was inducted into the Arizona Women's Hall of Fame in 1984.