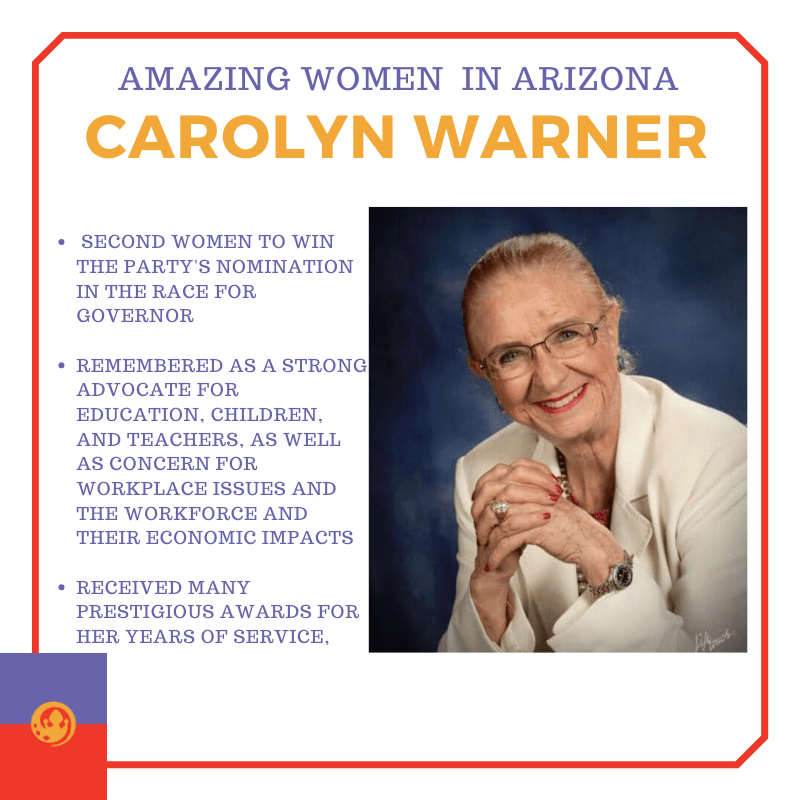 Today's amazing woman in Arizona history is Carolyn Warner. Warner began her political career as a board member of the Phoenix Union High School District. She then went on to become the first non-educator elected as State Superintendent of Public Instruction. She served in this position for 12 years. Following her time as State Superintendent, Warner ran for a Senate seat in 1976 but lost in the Democratic primary. 
Carolyn Warner became the second woman in the history of Arizona to win her party's nomination in the race for Governor. Warner lost in the general election to Republican Evan Mecham. Warner believed she lost because Arizona wasn't ready for a woman to lead. 
Warner went on to become the founder and chairwoman of Corporate Education Consulting Inc., a firm designed to advise businesses, organizations, and governmental bodies on how to strengthen their relationship with the educational marketplace. 
She is remembered as a strong advocate for education, children, and teachers, as well as concern for workplace issues and the workforce and their economic impacts. Warner received many prestigious honors, including the National Association of State Board of Education's Policy Leader of the Year, an honorary doctorate from Northern Arizona University, the Racial Justice Award from the YWCA of the USA, and a Lifetime Achievement Award from the Arizona School Boards Association.