Discover the stories of remarkable Arizona leaders as our interns bring you insightful interviews, celebrating their inspiring journeys and impactful contributions during Pride Month.
Altina – Lane Santa Cruz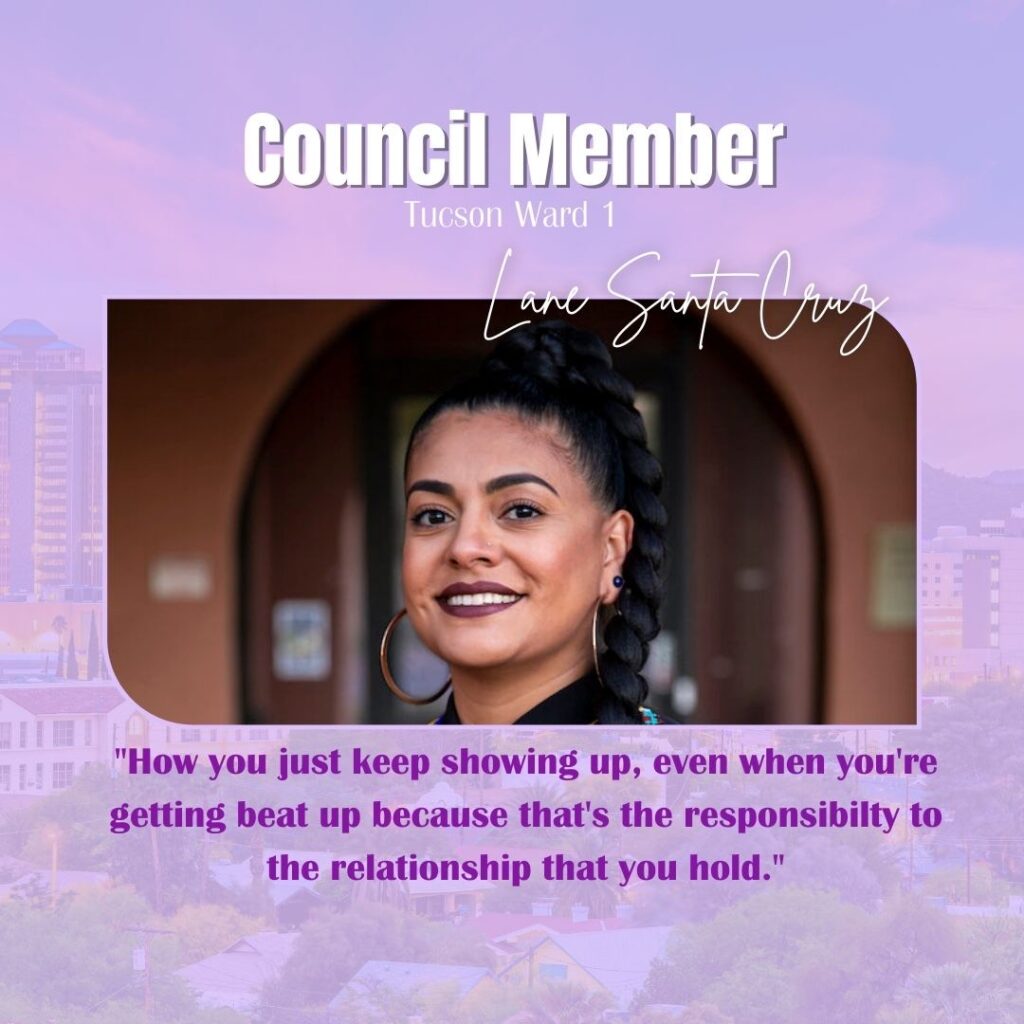 A mother. An educator. A community activist. These are just some of the key components that make up Council Member Lane Santa Cruz. In December 2019, they were elected to be the Council Member for Tucson Ward 1 as the bridge for the people to City Hall. It was met with an unforeseen twist, a global pandemic. But with promises made and no intentions of leaving them or the people behind, Lane Santa Cruz and their team got to work. They knocked on 10,000 doors of constituents to check on their needs, were part of an agreement to return more than 10 acres of land to the Tohono O'odham Nation, and had a major role in establishing the Office of Equity for the city of Tucson. Using skills learned in their role as a mother, they never gave up rebuilding the relationship between elected officials and the people, by standing up for the betterment of the community no matter the backlash. They are campaigning for re-election to continue establishing and expanding on their initial campaign which included migrant rights, ethnic studies, and sexual/gender violence.
TJ – Analise Ortiz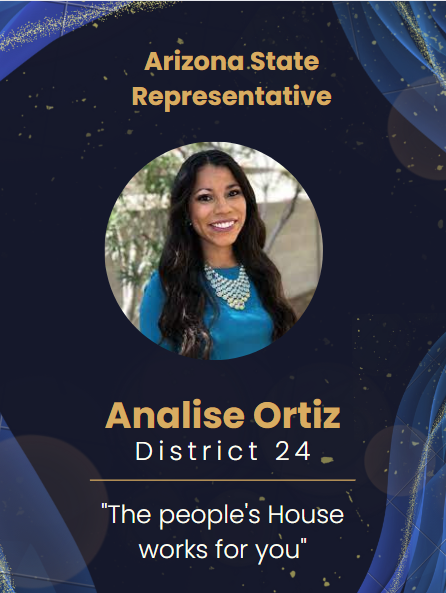 While working as a broadcaster, Analise Ortiz saw injustices in our society and in 2022, she ran and was elected to the Arizona House of Representatives to represent District 24. After seeing the effect of the housing crisis in Arizona, Ortiz has championed bills in Congress and made investments in the Housing Trust Fund to combat low income housing and support the homeless service fund. Everyday, Ortiz is honored to serve her constituents in a space historically dominated by white males while never being afraid to speak out against the injustices she experiences. She is constantly working to keep in touch with her constituents through phone banking and hosting tours of the capital because Analise Ortiz works for her constituents.
Adrienne – Patrice Horstman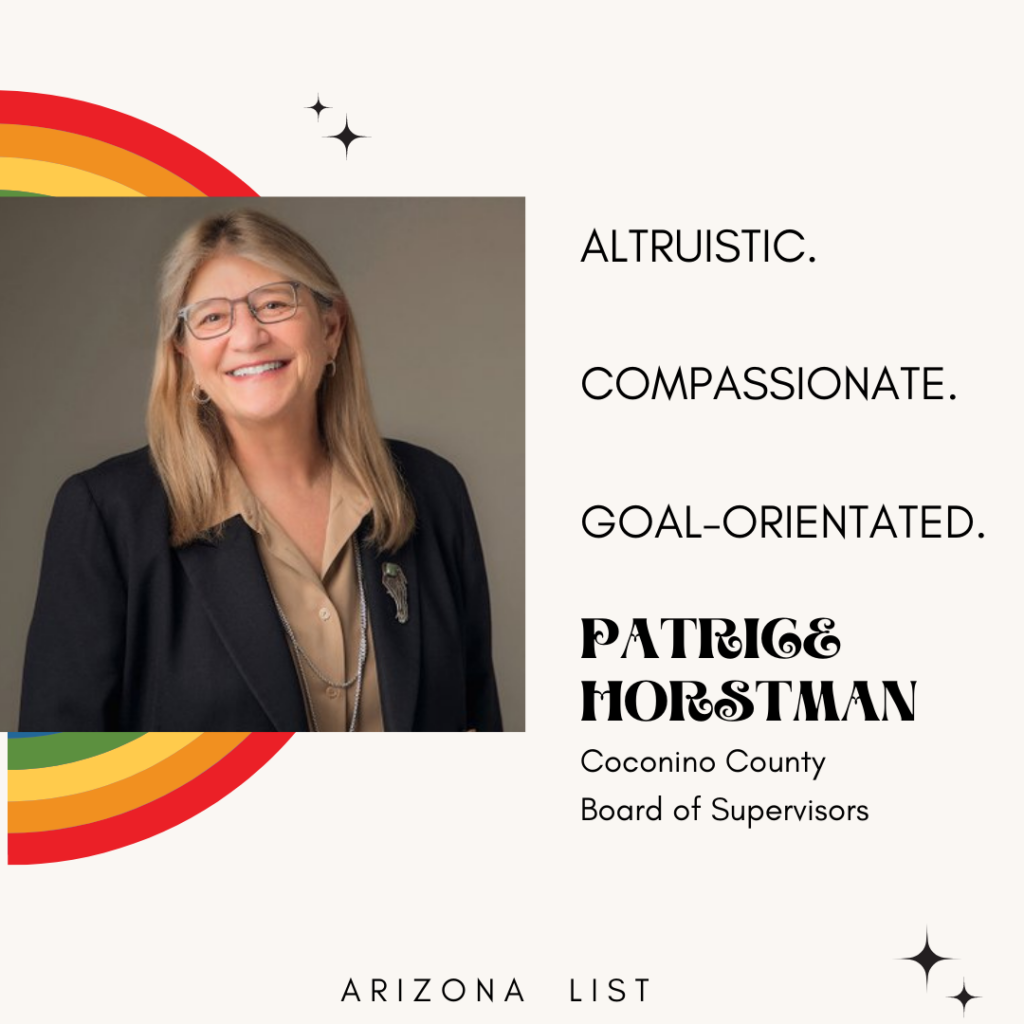 Born and raised in Minneapolis, Minnesota, Patrice Horstman has had an extensive career in politics and law. Amazed by the hills and mountains of Flagstaff, she moved down north and attended Northern Arizona University, where she received her undergraduate degree. Her educational aspirations didn't stop there. After graduating in 1976, she attended and graduated from the University of Arizona's law school. Ms. Horstman didn't stay too far from Flagstaff when she moved back in 1979 and co-founded Hufford and Horstman, P.C., a law practice focusing on various fields. Aside from law, she has served the City of Flagstaff in leadership positions and has continuously been active in numerous councils, non-profit organizations, and community outreach.
Yunmeng – Karin Uhlich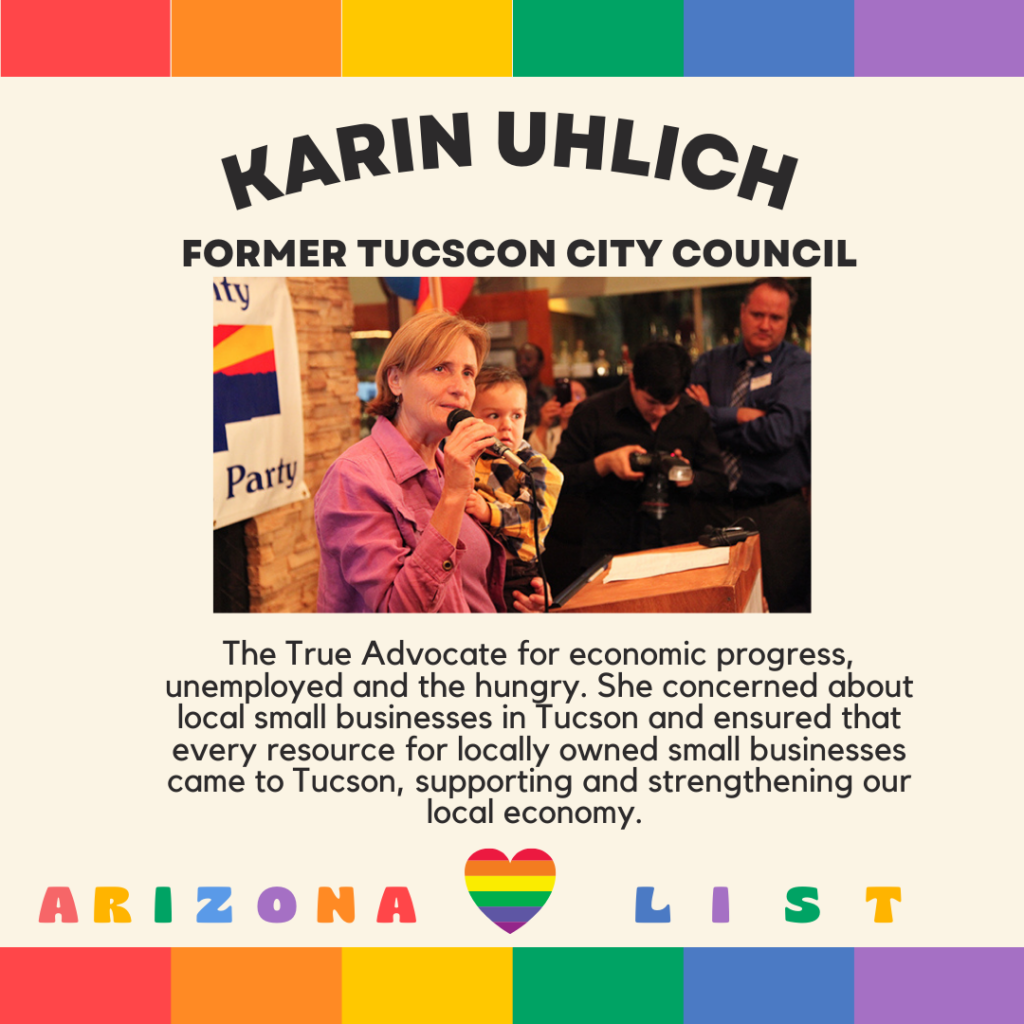 Karin Uhlich is a Democratic member of the Tucson City Council in Arizona who represented Ward 3. She was elected to the council in 2005 and served until her third term in 2017 as Vice Mayor for two years. Tucson Mayor Regina Romero has proposed the appointment of Karin Uhlich to fill the Ward 3 vacancy created by the resignation of Paul Durham. Although she stepped down in 2017, Uhlich is most remembered for her dedication to affordable housing and transportation issues during her 12 years on the council (Demers. 2021). She currently serves as the Senior Director of the System of Care for Arizona Complete Health.
Mayor Romero commented that not only does Uhlich know the neighborhoods, but she also understands city government and can step into the role without a learning curve which is particularly valuable during these unprecedented times (Demers, 2021). She is the founder of Southwest Center for Economic Integrity, where she is a true advocate for economic progress, the unemployed, and the hungry. Uhlich was concerned about local small businesses in Tucson and ensured that every resource for locally owned small businesses came to Tucson, supporting and strengthening our local economy. Although she left the City Council, she still serves people on Medicaid as the Senior Director of the system of care of Arizona Complete Health. Uhlich was the LGBTQ+ Alliance Fund Board Chair from 2019 to 2021. With her leadership, the foundation keeps moving the needle on queer diversity, equity, and inclusion in Southern Arizona (CFSA, 2021). She came to Tucson at a critical time to fit in the cultural norms of heterosexuality and femininity while the Alliance Fund's philanthropic mission began. She shared with Maria Coxon-Smith on Tucson Sentinel that although there is more tolerance and societal understanding nowadays, it is still tough to wonder if we will disappoint parents and other loved ones; also, whether we will gain the same opportunities for happiness and success as those more wholly embraced by the mainstream (Smith, 2015). While she was the Advisory Board Chair at the Alliance Fund, she assisted the Fund in earning the most significant grant round since 1999 and two $10,000 grants, the most significant investment they have ever made. With a successful grant cycle, the Fund increased the capacity of the allied organization and ensured equity for the queer communities (Alliance Fund, 2020). She is an emeritus board member at Alliance Fund and supports the LGQBTQ+ to achieve their dreams and happiness.
Janice – Lorena Austin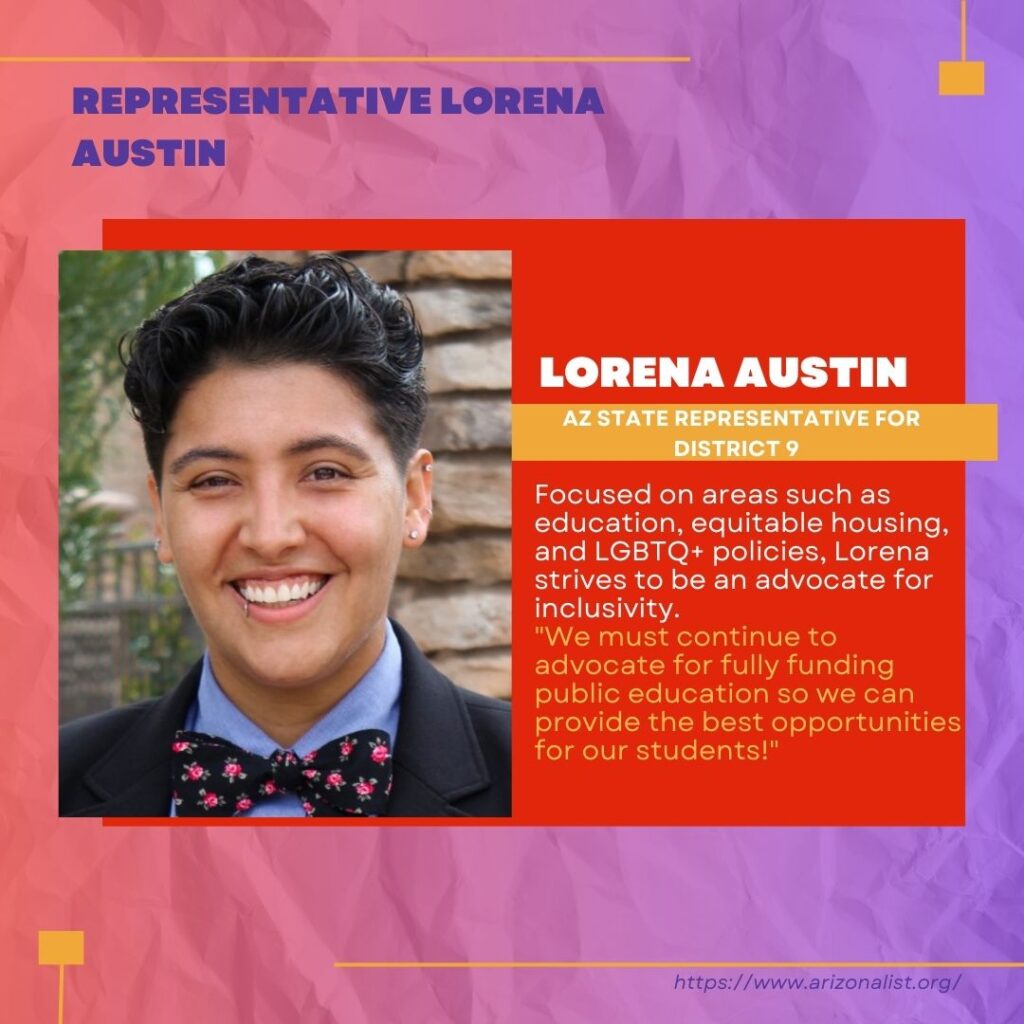 9th District House of Representatives Member Lorena Austin is a dedicated member of their community with a focus on many issues but with a main focus on education, equitable housing, and public transportation. Some of their most recent initiatives have a focus on LGBTQ+ advocacy, as Representative Austin has been a vocal opponent of bill SB1001, a bill that entails limitations on transgender youth through restrictions on pronouns a student can use in school. Regarding their advocacy of the bill, Lorena has stated that this bill "attacks vulnerable populations and that [includes] our youth." Lorena went on to explain her background and how personal the attacks on LGBTQ+ youth felt as she recognized the feeling of being most open to expressing her gender identity while she was in school. Representative Austin has expressed her pronouns to be She/Ella/They. As an elected official for Mesa, they have been involved in meetings with her constituents in events like Coffee with Your Legislator and visiting local Mesa public schools to connect with residents, as funding public education is one of the issues there is a priority on. As Austin explained in a Twitter post, "We must continue to advocate for fully funding public education so we can provide the best opportunities for our students!" As an advocate for the expansion of public light rails in Mesa, Austin has expressed how crucial the light rail expansion is for "Mesa's strong economic growth", and plans to continue advocating for further legislation regarding the transformative light rail expansions.