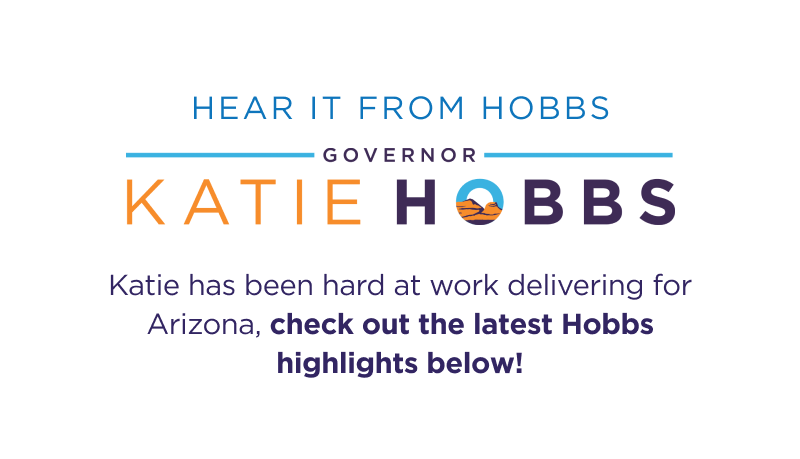 12 News: Hobbs creates task force on missing, murdered Indigenous people
For too long, elected officials have ignored the abuse, exploitation, and violence against Indigenous Peoples. That's why Katie established the Task Force on Missing and Murdered Indigenous People to lay the groundwork for addressing this epidemic and righting the wrongs of past leadership.
KYMA: Arizona Governor Katie Hobbs visits Yuma County
Katie has made it a top priority to be a leader for all Arizonans and make connections with local leaders throughout the state. During her visit to Yuma, she toured agriculture fields, met with U.S. Customs and Border Protection Agents, and visited the Regional Center for Border Health.
Arizona Capitol Times: Hobbs signs first bill after bipartisan support
Making bipartisan progress for our state was a campaign promise of Katie, and she delivered by signing her first bill into law this past week. The new law will help make it easier for developers to get building proposals approved.
She meant it when she said it: Good bills

AZ Family: Gov. Katie Hobbs finalizes Arizona's bipartisan elections task force
Arizona voters deserve an elections system that is fair, free, and secure. That's why Katie established a bipartisan elections task force. This group's election officials and experts will review current election laws and recommend ways to improve our current system.
International Women's Day: No hate in our state

Arizona Daily Star: Hobbs vetoes 'fearmongering' ban on teaching 'critical race theory'
Arizona state Republicans were trying to shove their extreme agenda into our classrooms by banning books and restricting important lessons about race and ethnicity. Katie vetoed their legislation and urged legislators to focus on real issues affecting our public education – like underfunded schools and a growing teacher shortage.
If you haven't already, be sure to check out our new #AZforEveryone and Juntos merch — click here to shop, and show your support for Katie and a brighter, more inclusive Arizona: