This article was originally published by the AZ Republic.
Arizona Legislature can't wait to fix the universal school voucher mess it created
Opinion: Offering universal school vouchers was a big mistake that'll cost nearly $1 billion a year. Scrap it before it's too late.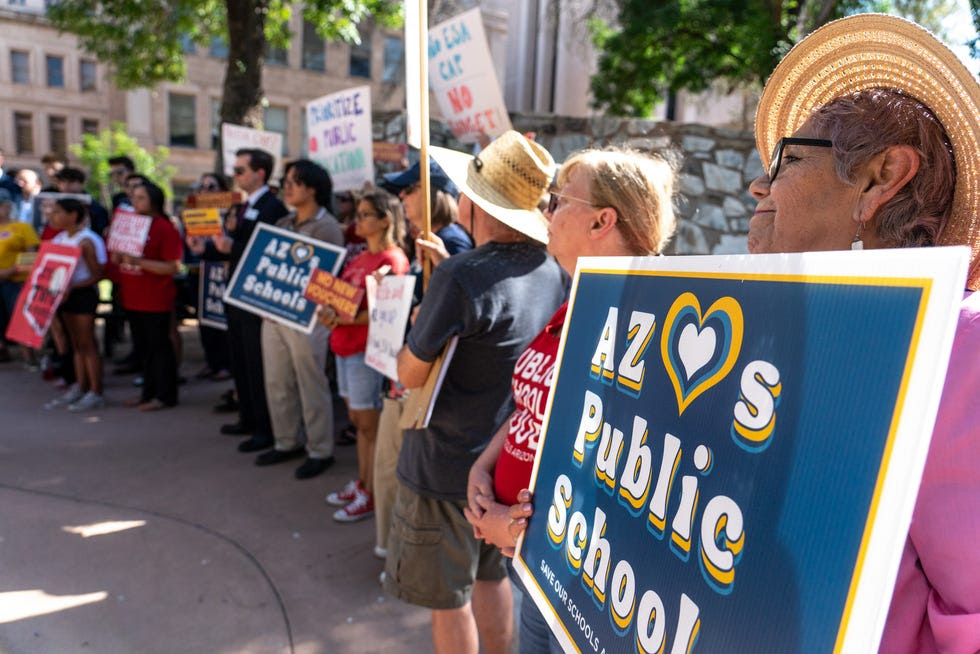 The illusion of school choice empowering parents through universal vouchers while saving the state money is the most expensive dishonesty peddled by the Republican legislative majority since the Alt Fuels Fiasco. 
A stable and healthy democracy requires an educated population, which is one reason why our founders advocated for the creation of a free public education. 
America helped to bring this very concept into existence, and Arizonans overwhelmingly support public education.
In fact, 89% of Arizonans believe every student in Arizona deserves an excellent education, regardless of family income, race, ethnicity, disability, language spoken or ZIP code. Almost 75% would like to see this achieved by spending more money on K-12 public education. 
The idea that the universal expansion of private school vouchers makes this happen by broadening opportunity does not factor in the dire reality and consequences of what Republicans have signed us up for. 
Expansion hurts special needs kids
The original school voucher program was meant to support and protect our students with disabilities, but ironically, the universal expansion has made it even more challenging for families to meet the needs of those same students.
The original funding for Empowerment Scholarship Accounts was dedicated to benefit students who needed special accommodations that were outside the scope of what public schools could offer — which is a good thing.
Now, with the expansion of these private vouchers into a universal system, families must worry that there may not be enough funding left for their special needs children.
Likewise, the Attorney General's Office is now rightly shining a light on the lack of protections for students who take vouchers, as they forfeit their right against discrimination.   
Public schools must make due with less
Arizona parents have shown time and again that their first choice for educating their children is public schools.
Now, Republicans have created a permanent drain with these universal ESA vouchers that will cost taxpayers nearly $1 billion annually, with the intent to shrink the public school system down to size until they're drowned in commitments they cannot fulfill.
Public schools run on a fixed cost system, meaning that even if only 10 students leave a school, the school won't close. Yet the money stripped away by vouchers will force cuts of teachers, bus drivers, elective courses and sports teams — harming the rest of the student population.
As voucher program grows:Public cash flows to private schools
We can argue the merits of school choice, and if the state had sufficient funding to support two different systems, there might not be much argument about the issue.
However, the reality is that universal ESAs will cost the state more — accounting for more than 30% of all new spending on K-12 spending in the fiscal 2024 budget, which previously did not include general fund dollars for non-state aid district students, homeschool students and existing private school students.
Vouchers are all cost, no accountability
Put simply, the new cost to the state is driven by the fact that an overwhelming number of students signing up for ESA vouchers are already enrolled in private schools, not students who simply leave district schools for private ones.
Eventually, universal vouchers will hamper any opportunity to operate in good faith on behalf of every person who lives and pays taxes.
Universal vouchers universally cut funding for public safety, infrastructure, business investments and public schools, because your tax dollars are now being diverted to a private school, often to pay for a child who would have been there prior to universal voucher availability.
And as a taxpayer, you're now footing the bill twice, because you are paying property taxes to keep your community school up and running — and the tax dollars you paid to the state are now paying to fund vouchers costing up to more than $7,000 to any person who fills out an application.
Call a special session to fix this mess
Private school vouchers are all cost and virtually no public accountability.
For every dollar you pay to keep your community public school open, Republicans are burning another one to bankroll private institutions that are not accountable to voters.
Arizonans shouldn't have to worry that their elected officials will scam them out of $1 billion.

Anti-public-school Republicans have chosen a path apt to cut safety and services, and sacrifice Arizona's next generation's chance to succeed.
It's time our state scrapped the universal private school voucher expansion before our public school system and, more importantly, your neighborhood public school is shuttered.  
Our Legislature desperately needs to enter a special session to correct the error it made.