This article was originally published by The Phoenix New Times.
"Y'all, a slight breeze and this whole tower that's holding together even a small right to bodily autonomy in Arizona, it disappears."
By Serena O'Sullivan October 4, 2023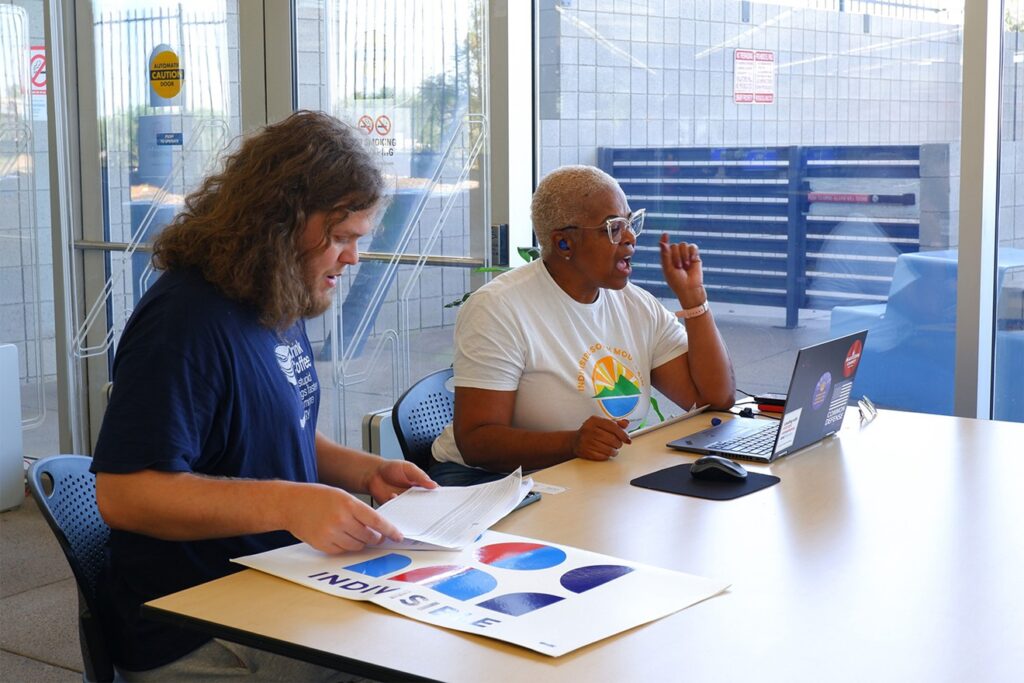 Expect to see petitioners asking for signatures outside businesses, libraries and theaters as the voting season gears up. One group, Indivisible Arizona, may be one of the most prevalent this fall.
The coalition is hoping to enshrine access to abortion into the Arizona Constitution through a ballot measure in 2024. But to do that, volunteers will have to collect nearly 400,000 voter signatures.
Alicia Messing, a special education teacher, and a group of about 60 volunteers with Stand Indivisible Arizona, the Indivisible chapter based in Scottsdale and Paradise Valley, gathered in the Ascension Lutheran Church basement on Sept. 27 to kickstart the initiative.
"I'm plotting what music concerts I'm going to go to, what theaters I'm going to stand outside. I'm not just gonna ask my friends; I'm gonna go to the Herberger, I'm gonna go to ASU Gammage, plop myself down and make sure we get those signatures," she told Phoenix New Times.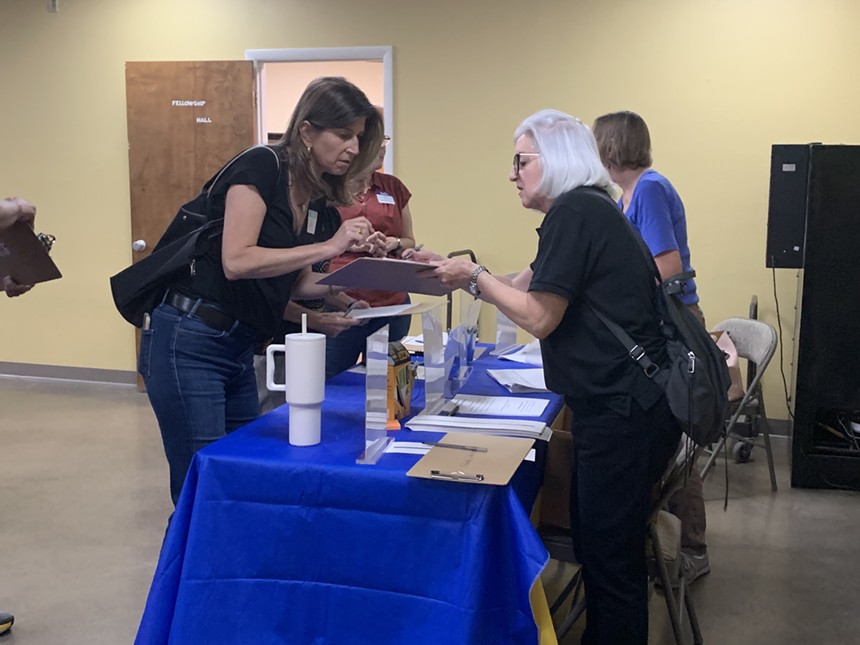 The grassroots fight for 'bodily autonomy'
Indivisible Arizona's event last month was a response to a Sept. 12 initiative petition submitted to the Arizona Secretary of State by Planned Parenthood and the American Civil Liberties Union.
If the Arizona Abortion Access Act reaches the ballot, Arizonans would be able to vote on a constitutional amendment that would create a "fundamental right" for Arizonans to get an abortion any time before viability, which is when a fetus can survive outside of the womb, typically after 23 or 24 weeks of gestation. After the fetus reaches viability, the amendment would prevent the state from creating or enforcing laws that interfere with abortions that are necessary for the pregnant person's health.
Julie Gunnigle, who lost to incumbent Rachel Mitchell in the Maricopa County Attorney race in 2022, was one of the speakers at the Sept. 27 event.
"You might be asking yourself, 'Hey, Julie, it sounds like my rights to bodily autonomy are held together by toothpaste, dental floss and a few court injunctions right now. Y'all, a slight breeze and this whole tower that's holding together even a small right to bodily autonomy in Arizona, it disappears," Gunnigle told the small crowd. "That's the point of tonight: to talk about what this initiative does and how you can change the face of Arizona for the better."
However, getting the measure on the 2024 ballot will take more than speeches and signatures.
"My understanding is that petitions, ballot initiatives, especially one to change the Constitution, receive a lot of scrutiny," said Gail Prestera, the event's organizer. "The rules on petitions, and the way people fill them out, are very strict in Arizona."
For instance, signature collectors can't write over somebody's name, Prestera said. Issues also can arise when someone has a big signature that chops off other signatures.
Even staples can cause issues, Arizona List Executive Director, Cathy Nichols, told the crowd. If a person gathering signatures removes the staples on a petition, that can trigger accusations that signees didn't see the full legal paperwork they needed to read in order for their signatures to be eligible — thus rendering the petition invalid.
Nichols' organization is a statewide membership network that works to recruit, train, support and elect Democratic women who support abortion rights.
To prevent the initiative from being blocked due to a technicality, Prestera told New Times that the coalition is planning to overshoot the number of signatures needed.
"We can only do so much stuff to control the way people sign. With the extra cushion, we're preparing for pushback," she added.
According to Prestera, rally attendees walked away with 170 petition sheets to gather signatures of support.
"I think this is a great kickoff for what's going to be a very interesting election season through 2024," Prestera said.
Indivisible leaders are shooting for 500,000 signatures before the filing deadline on July 3, 2024.