IMMEDIATE RELEASE FOR
October 30, 2019
For more information contact:
Allison Bodnum, 630-390-0121
(Phoenix, AZ)- On October 27, 2019 nine of the mayors and vice-mayors of Arizona gathered together in support of future mayor of Tucson, Regina Romero at the Luna Culture Lab in Downtown Phoenix. Having these women leaders of Arizona gathered in one room to show support of their colleague, sparked an excitement for the upcoming elections and the future of Arizona. Once Regina Romero is elected on November 5, all three major cities in Arizona will be run by pro-choice Democratic women! 
At the rally, the mayors spoke to the importance of having this diverse group of women running, (and winning) in Arizona, and what this means for the future of Arizona. As Mayor Evans said at the rally, women ARE electable; women who run, win. The face of Arizona is changing. Mayor Gallego pointed out that Arizona is electing officials who "…look like the community, who represent the community, and who get things done".  With every win, Arizona is making history. 
Arizona is making history- not only on a state-wide level, but on a national level. 
State-wide, Arizona has made history by electing the first mayor of Flagstaff who is a woman of color, and will make history in Tucson by electing their first woman, Latina mayor. 
Nationally, Arizona has made history by electing a mayor who is currently the youngest mayor in office of the ten largest cities in the county. Phoenix is the largest city in the country who has a majority of elected officials who are moms. In less than a month, Arizona will make history again by electing a mayor who will be the only Latina mayor currently serving as mayor in the fifty largest cities.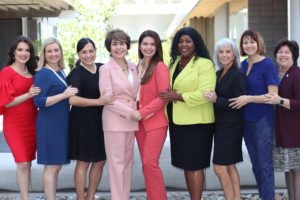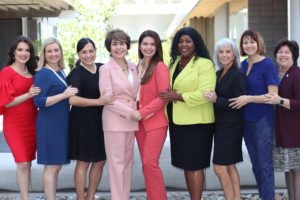 Pictured from left to right: Mayor Alexis Hermosillo, Mayor of El Mirage; Mayor Kate Gallego, Mayor of Phoenix; Mayor Anna Tovar, Mayor of Tolleson; Rep. Charlene Fernandez, House Minority Leader; Councilwoman Regina Romero, Mayor of Tucson candidate; Mayor Coral Evans, Mayor of Flagstaff; Mayor Ginny Dickey, Mayor of Fountain Hills; Vice-Mayor Lauren Kuby, Vice-Mayor of Tempe; Vice- Mayor Pat Dennis, Vice-Mayor of Avondale. 
These women are what leadership looks like. They are getting things done for the state, and they are making history along the way. 
Mayor Evans reminded the crowd that there are only 373 days until the 2020 elections. Now is the time to make change and to make history.