This article was originally published by AZ Central.
Opinion: Arizona voters elected me to put politics aside and get real results. Here's how I delivered in my first 100 days as governor.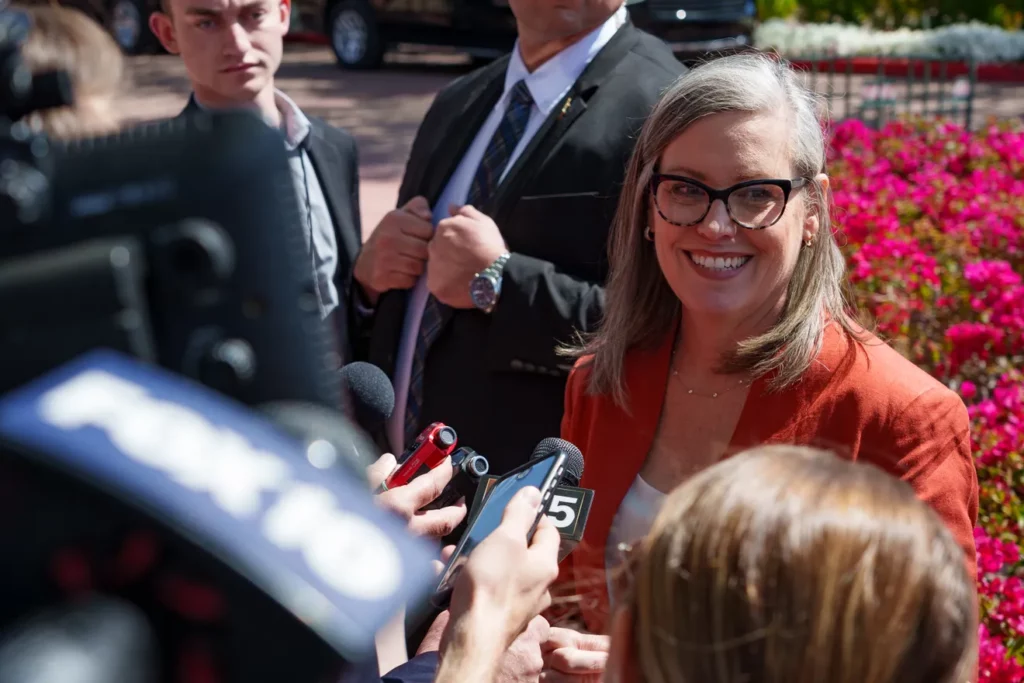 In the first 100 days since I was sworn in as Arizona's 24th governor, my administration has hit the ground running to follow through on the promises I made during the campaign.
You probably heard me say more than once that "This election isn't about Democrats vs. Republicans. It's about sanity vs. chaos."
Arizonans chose sanity, and I honor that every day by putting partisanship aside and governing our state with commonsense, Arizona-first solutions.
I've chosen to keep my focus on the issues Arizonans told me they wanted their next governor to prioritize.
I've signed 22 bills into law that passed the Legislature with bipartisan support. In fact, the first bill I signed, allowing cities to approve developments and proposals more efficiently, was sponsored by the Republican Senate president.
As promised, I'll work with anyone who has a good idea to move our state forward.
100 days focus on education, the border
As the sister of two public school teachers, I'm intimately familiar with the challenges educators are facing that are causing them to leave the profession and leave our students without enough high-quality teachers.
That's why I created the Educator Retention Task Force, made up of a diverse group of educators from across our state who will each bring a unique perspective on how we can hold onto our best and brightest.
How it started:Teacher shortage task force's work begins
In my State of the State address, I said I would stop politicizing our southern border and instead get to work on real border security.
In my first week, I made it a priority to ask Homeland Security Secretary Alejandro Mayorkas to come to Arizona's border and see firsthand the burden we bear because of Washington's inaction.
Last month, together in Nogales, Secretary Mayorkas and I announced a new operation to stop deadly fentanyl from reaching our border.
In just its first week, this operation successfully intercepted 100 pounds of cocaine, 700 pounds of methamphetamine and 900 pounds of fentanyl using a multipronged strategy that includes an increase in targeted inspections conducted by Customs and Border Protection officers and Homeland Security Investigations agents, canine units and advanced technology at locations along the border.
That's not a political talking point – that's real action that saves lives.
Bipartisan budget discussions are underway
At my inauguration 100 days ago, I told our state legislators, "If you're ready to make real progress on the issues that matter most to the people of this state, then my door will always be open. However, chasing conspiracy theories, pushing agendas for special interests, attacking the rights of your fellow Arizonans or seeking to further undermine our democracy will lead nowhere."
Unfortunately, not everyone shares this vision.
I've had to use my veto pen a lot already. I promised to veto any further restrictions on women's reproductive freedoms, and I have repeatedly done that.
But one reason for optimism is that we've started bipartisan budget negotiations earlier than anyone would have expected.
My regular meetings with the leadership on both sides of the aisle give me great confidence that the people of Arizona will get a bipartisan budget that invests in our state's future and creates prosperity for all.
Stop holding services hostage, confirm nominees
As we look toward the next 100 days and beyond, it's time for legislators to stop playing political games with the public servants who lead our state agencies like the Department of Public Safety and the Department of Veterans' Services.
Instead of the full Senate swiftly confirming these highly qualified nominees, as has been done in the past, obstructionist legislators are holding these critical agencies hostage.
The highly politicized confirmation process has led agencies to slow walk critical initiatives that could save lives or support vulnerable populations for fear that any move, no matter how innocuous, will be interpreted negatively by certain lawmakers.
We can't let partisan politics come before the needs of Arizonans.
You didn't elect me to solve easy problems or to kick the can down the road. You elected me to bring sanity to government, put politics aside and deliver real results.
That's easier said than done, but that's the commitment I made to you, and it's a promise I intend to keep.