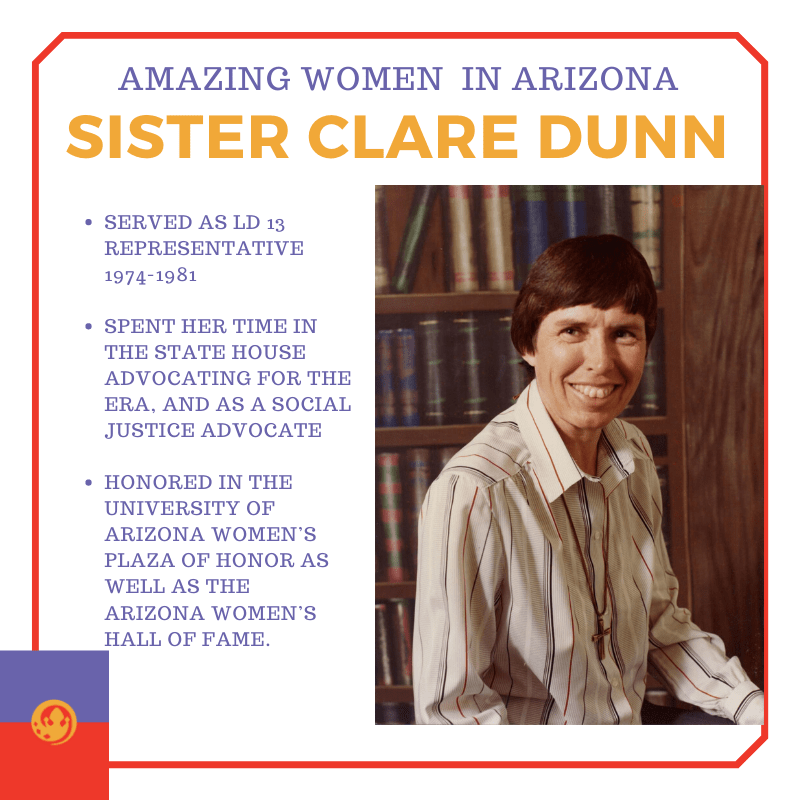 Sister Clare Dunn was the first and only nun to ever serve on the Arizona State Legislature, representing Legislative District 13 in Tucson from 1974 to 1981. Sister Clare was initially denied from pursuing legislative candidacy by the Provincial Council of the Catholic Church in Los Angeles due to uneasiness about meshing church and state, but she continued her petition and received permission to run in May of 1974.
Sister Clare was a fierce social justice advocate, specifically concerned with issues facing low-income/working-class or unemployed individuals, undocumented people, people who had newly immigrated from Mexico, women, and children/public education.
While serving in the State Legislature, she introduced legislation that proposed coverage of textbook fees by the state rather than the family. She also proposed legislation that would require that the language used on ballots to be easily understandable and straightforward. Later she pushed forward to have ballots be printed in both Spanish and English. Sister Clare was also a strong supporter of the Equal Rights Amendment, which unfortunately has yet to be ratified by the State of Arizona.
In 1981, Sister Clare Dunn was tragically killed in a head-on collision with a wrong-way driver while traveling between Tucson and Phoenix on the I-10. Sister Clare is widely acclaimed and revered for her legislative work and social justice activism. She is honored in the University of Arizona Women's Plaza of Honor as well as the Arizona Women's Hall of Fame.
Sister Clare Dunn set a wonderful example of a relentless, selfless, woman who spent her life making Arizona a better place for everyone.