This article was originally published by Tucson Sentinel.
Measure would amend Az Constitution to overturn 15-week ban, create legal pathway to overturning some state restrictions
Posted Aug 8, 2023, 1:11 pm
Jim Nintzel
TucsonSentinel.com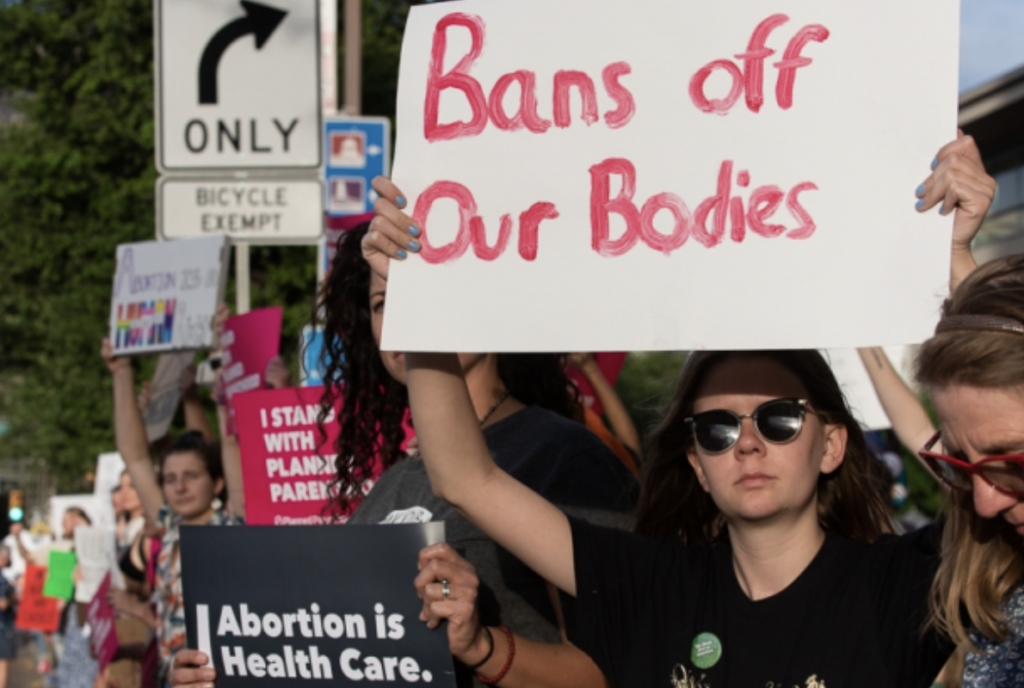 A coalition of groups is seeking to ask voters to enshrine the right to an abortion in the Arizona Constitution.
If approved by voters in the November 2024 election, the Arizona Abortion Access Act would amend the Constitution to allow women to terminate their pregnancy until the point at which a fetus could survive outside the womb.
The measure includes additional provisions that would allow women to seek abortions past that point if their health or life would be in jeopardy if they did not terminate their pregnancy.
With abortion declared a "fundamental right," the state would not be able to penalize individuals or groups that assist in providing abortions under those circumstances.
The Arizona for Abortion Access committee filed paperwork with the Arizona Secretary of State's Office on Tuesday to launch the effort. They must gather at least 383,923 valid signatures from voters — 15 percent of those registered in the state — before July 3, 2024, to make the ballot.
If the initiative drive succeeds, the constitutional amendment would need to be approved by voters in November 2024 to take effect.
Gov. Katie Hobbs said she was "thrilled" that Arizonans could have a chance to weigh in at the ballot box.
"I'm confident they will support a constitutional right to abortion​," Hobbs said in a prepared statement. "Since Roe v. Wade was overturned last year, Arizonans have been living with confusion and uncertainty over which abortion ban is in effect. We're just one bad court decision away from a total abortion ban that carries prison time for doctors."
The proposed constitutional amendment comes a little over a year since the U.S. Supreme Court's Dobbs vs. Jackson Women's Health Organization decision that overturned Roe v. Wade. the 1973 Supreme Court decision that established a right to abortion in the United States.
Under a 2022 law, abortion is prohibited after 15 weeks. A territorial-era law strictly prohibiting all abortion is on hold in the state as a court battle continues over whether the 2022 law supersedes it.
"The Dobbs decision was a seismic event last year," said Jodi Liggett, a senior advisor for NARAL Arizona who is a chief organizer of the initiative effort. "We have this crazy situation. Do we have a 15-week ban? Do we have a territorial ban? We're still in litigation. We could wake up next month and find out doctors are going to prison if they try to help someone."
The proposed constitutional amendment would establish a "fundamental right" to abortion in Arizona and prohibit "denying, restricting or interfering with that right before fetal viability unless justified by a compelling state interest."
"Fetal viability" is defined as "the point in the pregnancy when, in the good faith judgment of a treating health care professional and based on the particular facts of the case, there is a significant likelihood of the fetus' sustained survival outside of the uterus without the application of extraordinary medical measures."
The measure would end enforcement of the 2022 law and provide abortion advocates with a legal pathway to blocking enforcement of other laws restricting abortion, such as waiting periods, mandatory ultrasounds and restrictions on the use of medication abortion, that have become law over the last few decades in Arizona, according to Liggett. Those restrictions have made it impossible to get an abortion without traveling to Pima or Maricopa County.
Liggett said supporters did not set a limit based on a specific number of weeks into a pregnancy because they wanted to take into account future advances in medical science and leave that decision to doctors. Current fetal viability in the United States is roughly 24 weeks although there is a significant risk of birth defects at that age.
"We are not talking about weeks in the language," Liggett said. "It will be a medical determination on an individual basis. It's returning decision-making to individuals and their medical professionals."
The initiative had gone through a lot of input from reproductive-rights organizations and polling had shown strong support for the measure, according to Liggett. She said it would be a "heavy lift" to get it onto the ballot and supporters were planning on spending $40-$50 million on the campaign.
"We've seen how the issue moved voters in the last election," Liggett said. "We do think it's doable."
Groups in support of the initiative include Planned Parenthood Advocates of Arizona, NARAL Arizona, Affirm Sexual and Reproductive Health, Arizona List and Healthcare Rising Arizona.
Center for Arizona Policy President Cathi Herrod, whose right-wing organization is fighting in the courts to see the territorial-era ban enforced in Arizona, condemned the effort in a prepared statement.
While she said had not seen the language of the proposal, Herrod said her "initial viewing of the measure reveals an extreme power grab by an industry that sees no limits to abortion. That is not where Arizonans are on the issue, and we are confident that Arizonans will reject this radical measure."
2022 initiative push failed to gather enough signatures
In 2022, a hastily organized effort to put an abortion initiative on the ballot failed to garner enough support. Planned Parenthood and other national healthcare groups did not back that petition drive.
Organizers fell well short of the 356,000 signatures required to add the measure to the November 2022 ballot. The push only gathered petitions with about half the number of signatures from Arizona voters necessary to put the initiative to voters.
The initiative backers, Arizonans for Reproductive Freedom, launched their effort to collect thousands of signatures in May after a leak from the U.S. Supreme Court showed the justices were likely to strike down Roe v. Wade—the landmark 1973 decision that guaranteed federal constitutional protections for abortion rights, as well as Planned Parenthood v. Casey, a 1992 decision that reiterated the right.
They had just 61 days to gather signatures before the early July deadline last year.
The new initiative drive has nearly a year to organize support behind the abortion-rights effort.