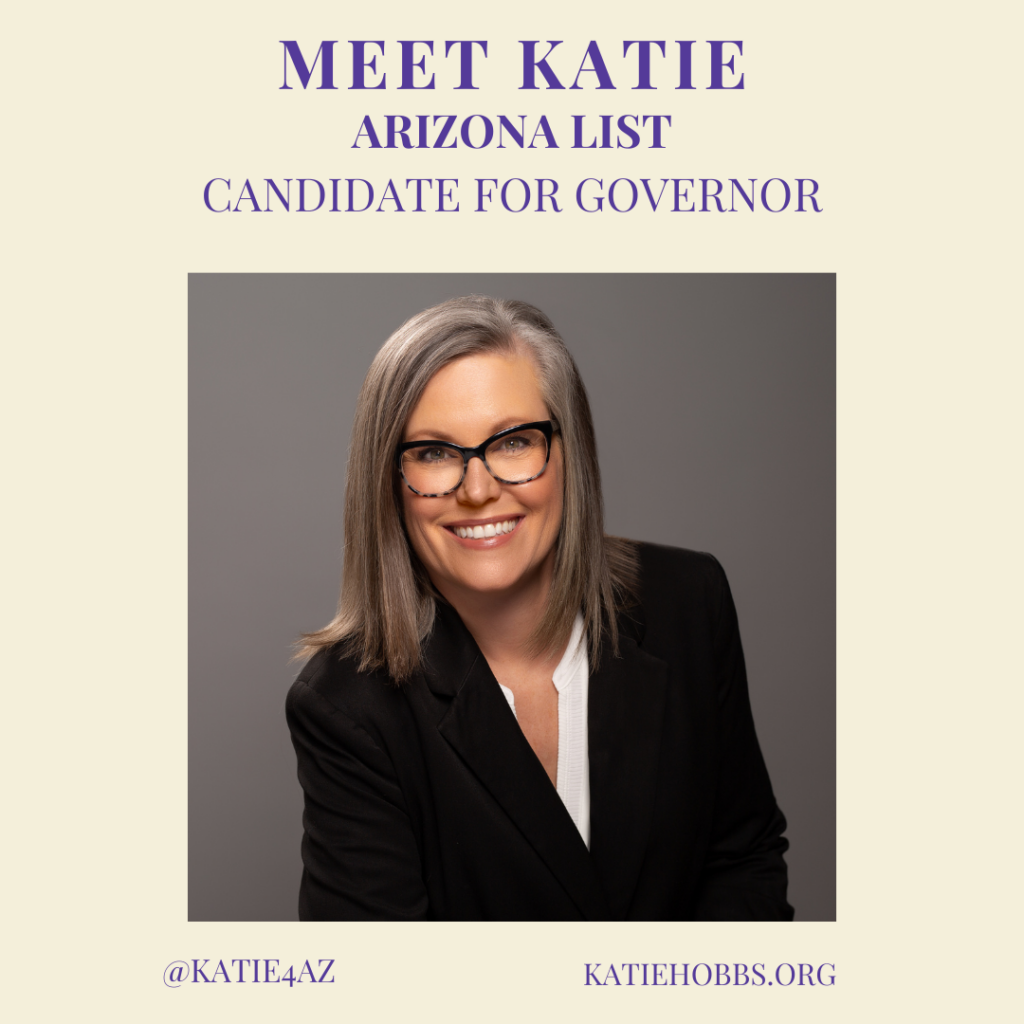 Katie Hobbs Arizona Governor As the Senate Minority Leader, Katie Hobbs led the Arizona Democratic Caucus in their tough fight against extremist legislation that harms women, children and families. As Secretary of State, she has worked to make sure all Arizonans have access to the resources necessary to vote. As a professional social worker who managed one of the largest domestic violence shelters in the United States, Katie has had to deal with big budgets, large staffs and complicated problems. She comes both with the knowledge of how to manage a multimillion dollar budget as well as a deep understanding of the political process in our state. She was first elected to the Arizona House of Representatives in 2010 and the Arizona Senate in 2012 where she served as the Senate minority leader from 2015-2019.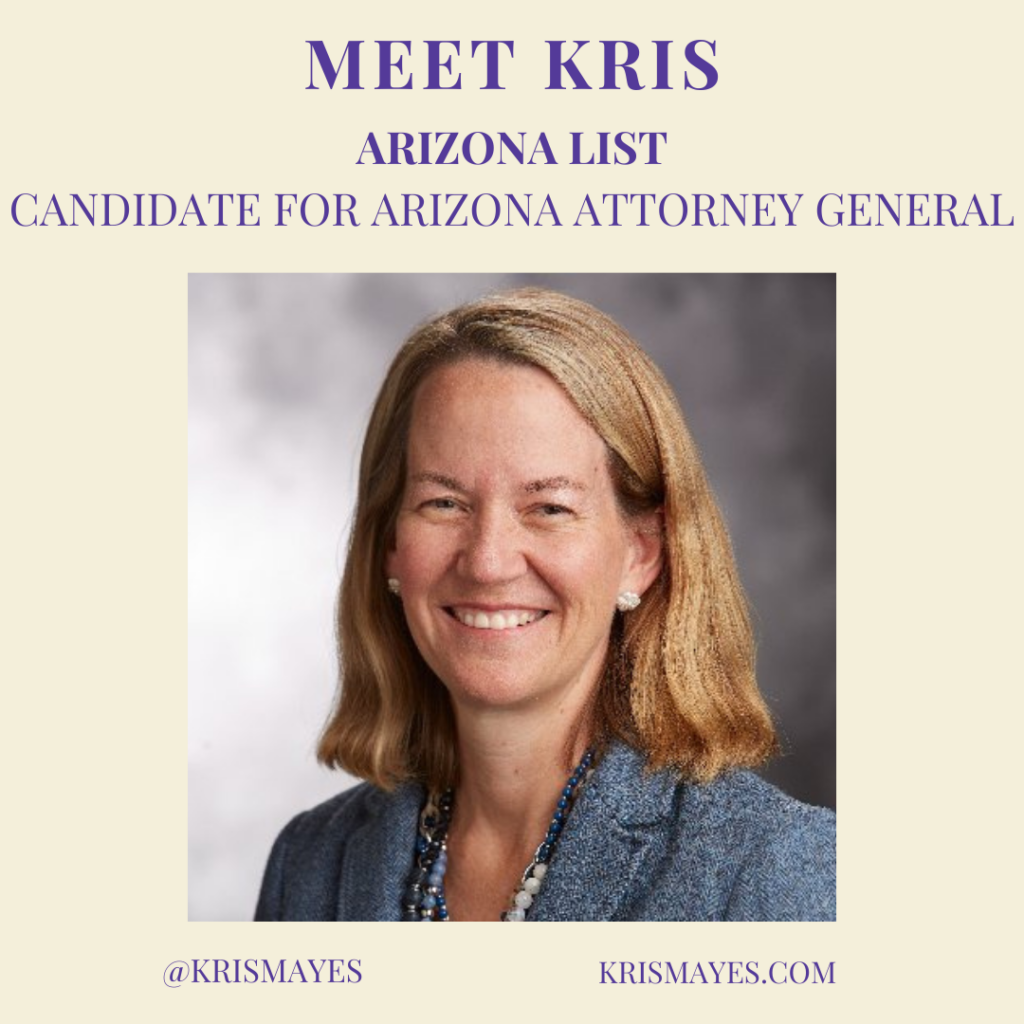 During her time as an Arizona Corporation Commissioner, Kris Mayes' leadership helped create tens of thousands of high-paying jobs, saved Arizona consumers tens of billions of dollars, and fought climate change by requiring utilities to produce more clean energy — including solar, wind and energy efficiency.
Kris worked to preserve Arizona's increasingly threatened water resources by overseeing one of the largest expansions of utility water conservation programs in state history. Kris also pushed utilities to stop spending ratepayer money on corporate bonuses and advertising, in an effort to keep rates low. After graduating from Prescott High School, Kris studied political science and journalism at Arizona State University. After she graduated from ASU, Kris joined the Phoenix Gazette and Arizona Republic as a working beat reporter. She earned her law degree at ASU and a Master of Public Administration from Columbia University in New York. In 2002, Kris joined Janet Napolitano's campaign for Governor as press secretary. Kris took a senior role in the Napolitano Administration in 2003. Later that year, Governor Napolitano appointed Kris to serve as Corporation Commissioner. Kris became a Democrat in 2019. Since 2010, she has worked as a senior sustainability scientist at ASU's School of Sustainability and teaches a course on energy law for the Sandra Day O'Connor College of Law. Kris lives in Phoenix with her daughter Hattie.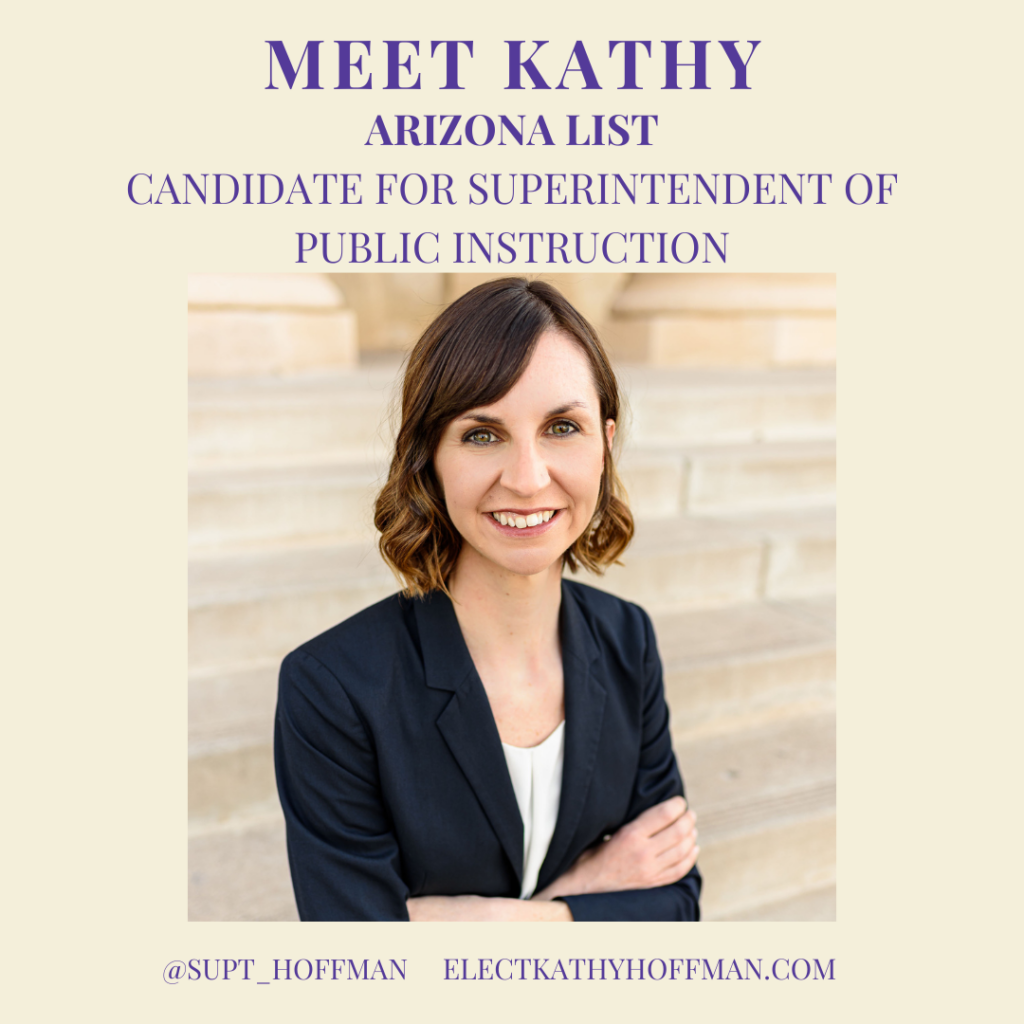 Kathy Hoffman is Arizona's Superintendent of Public Instruction and is currently running for re-election. Superintendent Hoffman has spent her entire career working in public education, first as a preschool teacher and then as a speech-language pathologist. She began her career in the Vail School District in Southern Arizona before joining the Peoria School District. Her experience as both an educator and advocate for students with disabilities informs her vision for public education. Throughout her career, she has fought tirelessly for equal access to high-quality public education regardless of a student's race, gender, or zip code. The last year has been one of the most challenging for our schools, but she has led this office by listening to our students, teachers, and administrators to implement data-driven policies and solutions that will protect our students and schools. From partnering with Cox to expand affordable internet services to providing an additional $21 million to fund the School Safety Grant Program, Superintendent Hoffman has shown the successes of having an educator lead.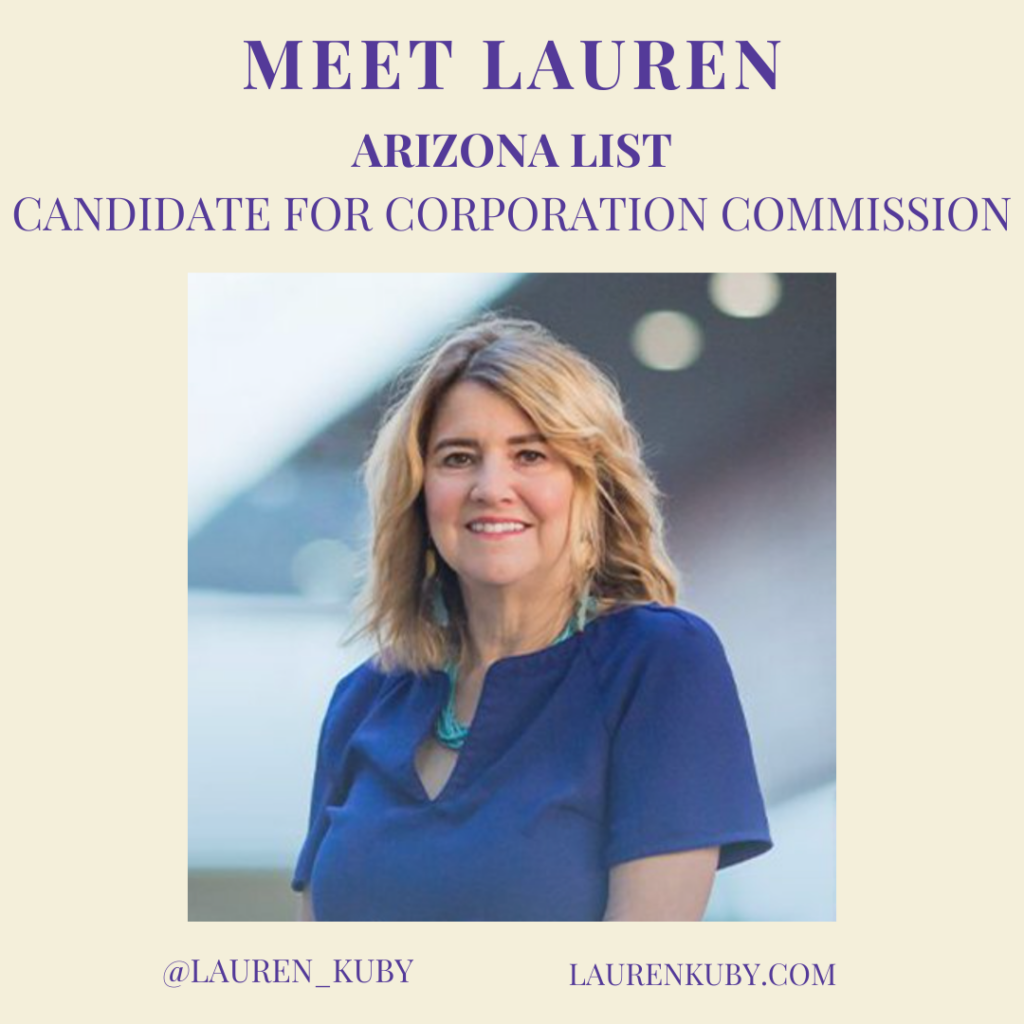 Lauren Kuby, a two-term councilmember and former vice mayor of Tempe, is a long-time advocate for consumer, environmental, and worker protections. Lauren is a recognized national champion for climate action and cities as incubators of innovation. Veteran journalist Juan Gonzales featured Lauren in his book, Reclaiming Gotham, citing her as evidence of a growing movement of cities taking progressive action and challenging legislative interference in local democracies. Lauren has led Tempe's efforts for social, economic, environmental, and racial justice, including equal pay, earned sick days, climate action plans, affordable housing, animal welfare, urban forestry, transparency, and campaign-finance reform. She spearheaded a dark- money ballot initiative, garnering 91% support from Tempe voters. The MSNBC docuseries American Swamp spotlighted Lauren's efforts to expose the corruptive influence of money in Politics. As a sustainability scientist at Arizona State University, Lauren manages community outreach for the Global Institute of Sustainability and Innovation and engages the ASU community, small businesses, nonprofits, and neighborhoods in sustainable solutions. As manager of ASU's Stardust Center for Affordable Homes and the Family, she works with cities and nonprofits to connect the dots among housing, health, food access and transportation and helps craft regional integrated solutions leading to healthy communities. Lauren has a master's degree in Public history from ASU and a BA from the University of Chicago, where she met her husband Mike, an ASU geographer. They raised six dogs and two daughters in Tempe.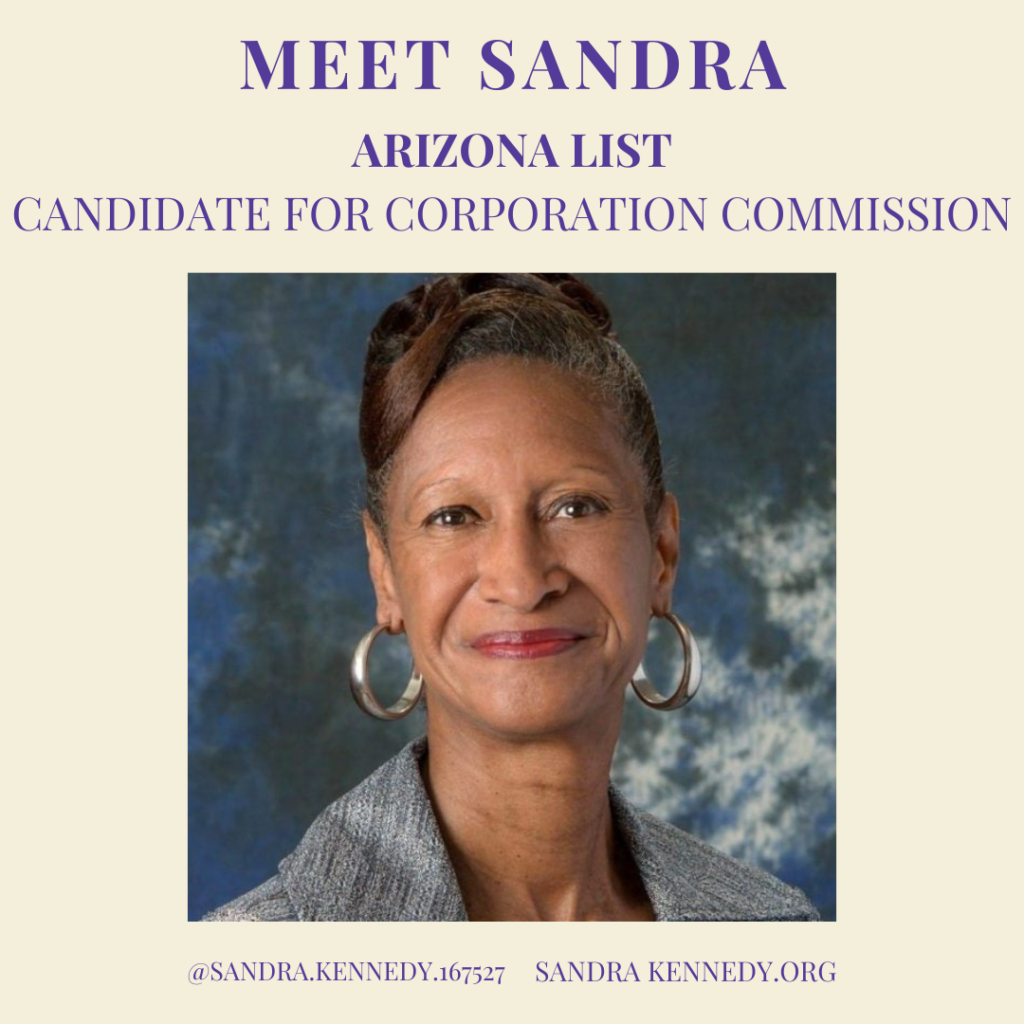 Sandra was first elected to the Arizona Corporation Commission in 2008 on a platform of promoting solar energy in Arizona and as a fierce consumer advocate. In her first term at the Corporation Commission, she worked with the Republican majority to advance Solar Energy and Energy Efficiency. She is the first and only African American in Arizona to hold statewide office and the first black woman to hold statewide elected office west of the Mississippi.
Sandra was re-elected to the Corporation Commission in 2018 on a platform of restoring integrity and transparency to the Commission, lowering unjustified utility rate increases and creating more solar and renewable energy options in Arizona, especially roof top solar.