IMMEDIATE RELEASE FOR
November 6, 2019
For more information contact:
Allison Bodnum, 630-390-0121
(Tucson, AZ)- Yesterday voters in Arizona demonstrated why Arizona is a battleground state in 2020.
In Tucson, voters overwhelmingly elected Mayor Regina Romero in Tucson, Arizona as the first Latina mayor in the history of the city.  She joins Mayor Kate Gallego and Mayor Coral Evans so that the three major cities, from north to south of Arizona, are now run by progressive Democratic women.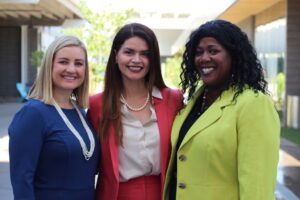 Pictured from left to right:  Mayor Kate Gallego, Mayor of Phoenix; Mayor-elect Regina Romero, Mayor of Tucson; Mayor Coral Evans, Mayor of Flagstaff; 
These women are what leadership looks like – their city council races broke barriers and they have all broken barriers as mayors. They are the new face of leadership of the state, and they are making history along the way. 
With her victory, Romero becomes the first woman to lead the City of Tucson since its founding in 1775. She will be the first Latina and the second Mexican-American Mayor of Tucson after Estevan Ochoa, who was in office from 1875 to 1876 while Arizona was still a territory. When she takes office, Romero will also become the only Latina Mayor in the 50 most populous U.S. cities. Romero was first elected to the Tucson City Council in 2007, becoming the first Latina to serve on the Council and the first woman to represent her ward. 
Kate Gallego was elected Mayor of Phoenix in March of this year. Gallego is only the second woman to be elected as Mayor of Phoenix and the first Democratic woman.  She is one of only two female mayors in any of the ten largest cities in the U.S. At 38, she is also the youngest big city mayor. She started in the city council in 2013 as the first woman to represent her district.
In 2008, Coral Evans made history by becoming the first woman of color elected to Flagstaff's city council. In 2016, she broke another barrier by becoming the first person of color elected as mayor in Flagstaff and the first African American woman ever elected as mayor in the state of Arizona.  
These mayors do not stand alone. Nine cities in Arizona have recently elected progressive mayors or vice-mayors. These women have all broken boundaries including the first Latina mayor of El Mirage, Alexis Hermosillo (El Mirage, Arizona) and the first female mayor of Tolleson, Anna Tovar (Tolleson, Arizona).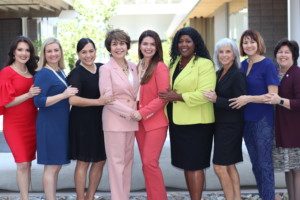 Mayor Alexis Hermosillo, Mayor of El Mirage; Mayor Kate Gallego, Mayor of Phoenix; Mayor Anna Tovar, Mayor of Tolleson; Mayor-elect Regina Romero, Mayor of Tucson; Mayor Coral Evans, Mayor of Flagstaff; Mayor Ginny Dickey, Mayor of Fountain Hills; Vice-Mayor Lauren Kuby, Vice-Mayor of Tempe; Vice- Mayor Pat Dennis, Vice-Mayor of Avondale. 
There are currently only two other states that have female mayors leading their largest population areas— Nevada and North Carolina – and they are also battleground states. 2020 is lining up to be a powerful year for Democratic women in Arizona. Yesterday's results confirm the trend.
For more information contact:
Tucson Mayor Regina Romero, contact Nate Sigal: 520-444-3007
Flagstaff Mayor Coral Evans, contact Katherine Yelle: 928-606-4810
Phoenix Mayor Kate Gallego, contact Kevin Kirchmeier: 760-212-7326
Arizona List, contact Allison Bodnum: 630-390-0121