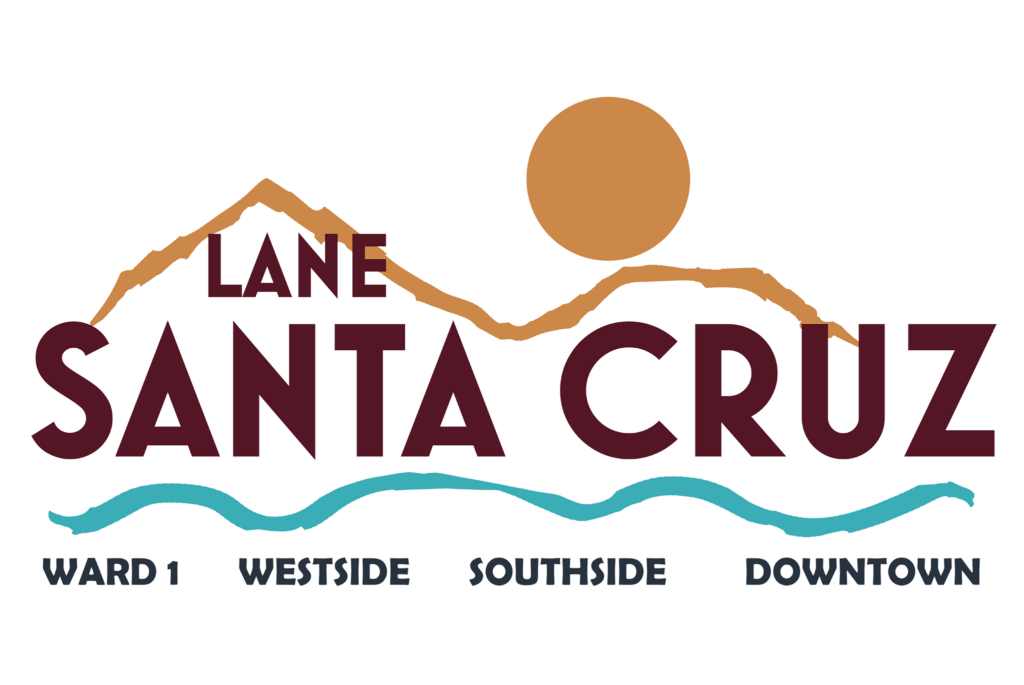 Día de la NiñezSave the date! We have our Día de la Niñez event on Saturday, April 29 from 10 a.m. – 1 p.m. at El Pueblo Park. This is a free event for our community to celebrate all the children in our lives!
Parks and Recreation UpdatesSilent Disco Recruitment Party – Tucson Parks and Recreation will host a summer job fair, Silent Disco Recruitment Party, on Friday, April 14, from 5-8 p.m. at Gene C. Reid Park's DeMeester Outdoor Performance Center, 800 S. Concert Place. This interactive event is open to those ages 15-20 years old and aims to provide a fun and engaging way to learn about the exciting Parks and Rec positions open for part-time this summer, including lifeguard, KIDCO recreation worker, therapeutic recreation worker, and more. Participants will be able to apply on-site. The event is free to attend, and no registration is required. For questions or for more information, contact Danielle Alkola at

[email protected]

.Restricted access to "A" Mountain this weekend – This weekend, "A" Mountain will host the Good Friday Cross Procession (Procesión de la Cruz del Viernes Santo) and Easter Sunday Sunrise Services (Servicio al Amanecer). In order to accommodate these events, Sentinel Peak Road will close at 2 p.m. on Friday, April 7. Normal operations will resume Saturday, April 8, at 8 a.m. for pedestrians and bicyclists and 11 a.m. for vehicles. After closing at sunset, the road will not reopen until noon on Sunday, April 9.An update on lifeguard recruitment – A big shout out to Parks and Recreation for recruiting 169 lifeguards so far! Last year we only had 88 lifeguards on staff and this limited the number of pools we were able to open. Anyone interested in becoming a lifeguard should know that Parks and Rec is both paying for the cost of the certification and for new hires to get certified. Parks and Rec is continuing to recruit and anyone interested in applying should visit the lifeguard webpage or check out the upcoming Silent Disco Recruitment Party.Archer Pool – The Archer Pool boilers are planned to be installed in mid-April and so the pool will likely open a week after the extended pool and splash pad season begins, which is Saturday, April 8. For a full schedule on city pools, visit the website.Find the April schedule for the Ready, Set, Rec van below!
Mayor and Council Recap
April 4, 2023Study SessionThe following two policy recommendations from the Prosperity Initiative were adopted: Increase access to early childcare and education for children from low-income families, ages birth to five Prioritize practices and investments that reduce the geographic concentration of poverty and increase the number of mixed-income neighborhoods. The Prosperity Initiative is an intergovernmental effort to develop wealthier communities across Pima County through policies that reduce generational poverty and improve opportunity.Budget discussions are underway for Fiscal Year 2023/2024. City staff presented estimated revenues for the coming year, the city's investment plan and financial commitments, and city department's staffing plans. Council Member Santa Cruz shared similar feedback given during previous budget discussions requesting the City Manager to promote community engagement.In regard to ongoing discussion regarding fare-free transit, Director of Transportation & Mobility Sam Credio and City Manager Mike Ortega presented a methodology for calculating ridership data attributed to the University of Arizona, Pima Community College, Tucson Unified School District as well as the top local employers. Mayor Romero has sent letters to potential partners and stakeholders. The council will revisit funding options with more data at a future meeting. During the call to the audience, there was strong showing from the Transit for All Coalition speaking in support of permanent fare-free public transportation. Their online petition in support has over 1,400 signatures.See below for past and future meeting agendas.
Barrio Walk in Barrio Kroeger LanePuppies, babies, and neighbors joined us on Wednesday for a Barrio Walk in Barrio Kroeger Lane! It was exciting to walk with such an active and inclusive community and get to hear directly from neighbors about neighborhood issues.

Just like our Cafecitos con Vecinos, we're interested in scheduling Barrio Walks monthly. These walks are hosted by Ward 1 vecinos (neighbors) to enjoy coffee/tea while conversing about community needs, issues, and Mayor and Council policy pushes. Email

[email protected]

and

[email protected]

if you're interested in setting up a Barrio Walk in your neighborhood!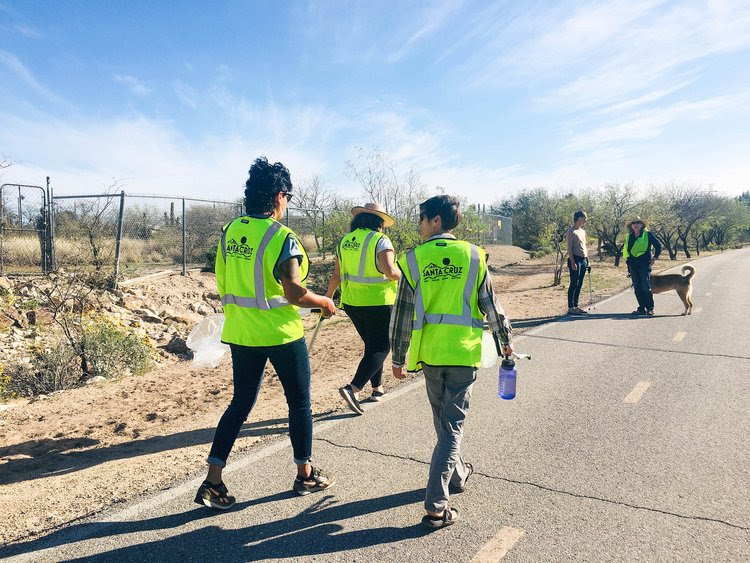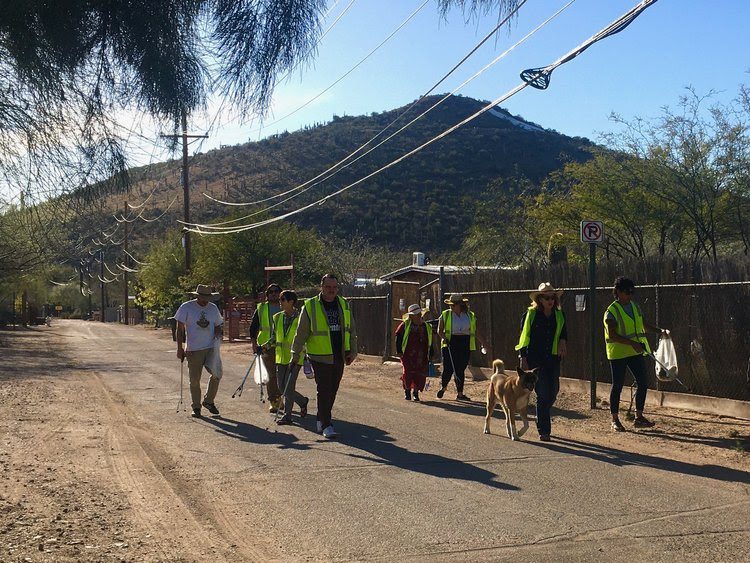 Film Bus DayBecome a local Tucson celebrity! FUGA needs 60 people and 60 cars to film a PSA video to highlight transportation alternatives in our city. If you're interested in participating and can commit to attending on Saturday, April 15 from 8-10 a.m. make sure to register on FUGA's website.
Community tile mural in memory of those lost to COVID-19Join Southside Tucson artists Alex! Jimenez and Paloma Jaqueline to construct a large memorial to those who have died from COVID-19. These tiles will be gathered and assembled into a final public display in June of 2023. Participants will create original works of art and honor someone you love who has died of COVID. This project also aims to promote healing and give people a safe place to talk about death and grieving and use the grounding energy of clay to connect to emotions.Ways to participate include:Submit a name and the artists will include the name of your loved one on a tile.Stamp the name of your loved one onto a tile that will be installed on the mural. (15 min – 30 min)Make a tile Create a unique clay piece to honor someone you lost that will be installed on the mural. (45 minutes – 2 hours)Work with the artists throughout the duration of the project. Volunteers will come in during drop-in hours and help with the production of tiles.Learn more by visiting the website!
FUGA Bici y Burros Ride
Segundo Domingo Paseo | Second Sunday RideFUGA has a Bici Y Burros Ride on
Easter, Sunday, April 9th from 9-11 a.m. and rolling out of the Ward 1 Office, 940 W Alameda St at 9:30 a.m. This is a free mobility event for community members and supported by Familias Unidas Ganando Accesibilidad (FUGA), the Office of Council Member Lane Santa Cruz, & Corazón Latino
CycloviaCyclovia Tucson returns to reclaim the streets on Sunday, April 16th. Join in a four-mile block party where streets will be closed to car traffic and open to people for walking, biking, skating and all other forms of people-powered movement. Enjoy food trucks, performances, and family-friendly activities all along the route. Presented by Living Streets Alliance, a local nonprofit. See the April 16th route map and learn more at cycloviatucson.org.